Discover the secret of beauty and youthfulness
High-quality regenerative serum containing pure, native collagen for the highest of standards. Boosts the skin's moisture absorption and moisture retention capacity..
Activates the skin's moisture absorption properties
Supports the formation of the skin's own collagen matrix
Visibly reduces the wrinkle depth of all types
Improves the elasticity and resilience of the skin
Keeps the skin smooth and prevents elastin loss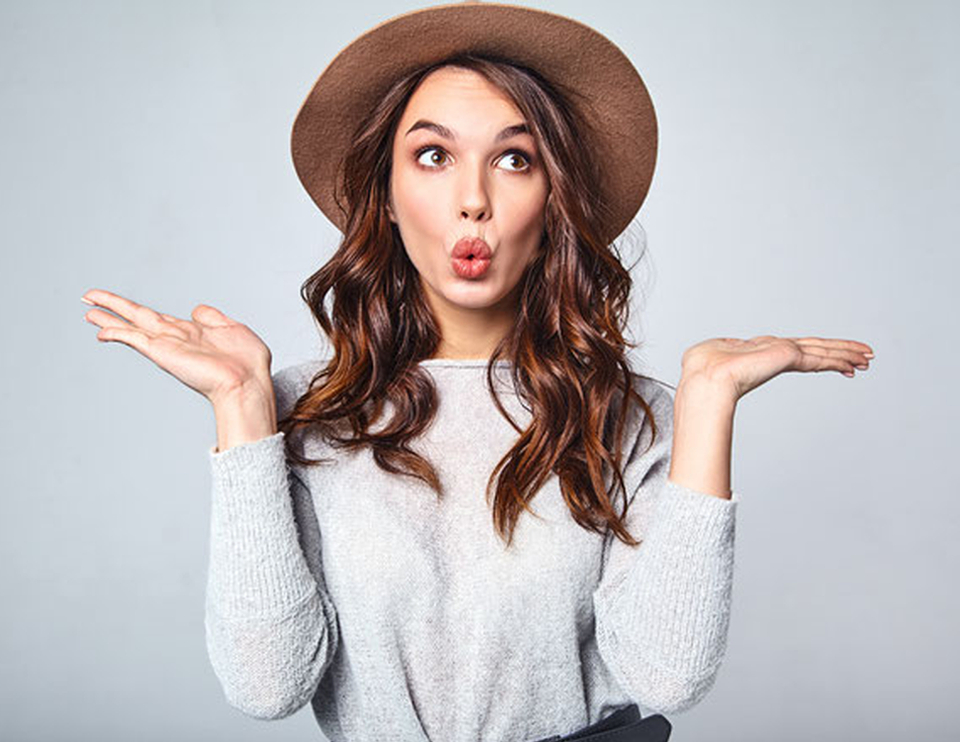 Real solutions for the
individuellen Bedürfnisse der Haut
Find out here:
Things to know about your skin condition

How you can actively counteract wrinkles

What goes into good skin care
Why it is so important to protect your skin
MSB®  Cosmeceuticals
professional skin care at home.
Let us advise you!
We have summarised the answers to frequently asked questions for you.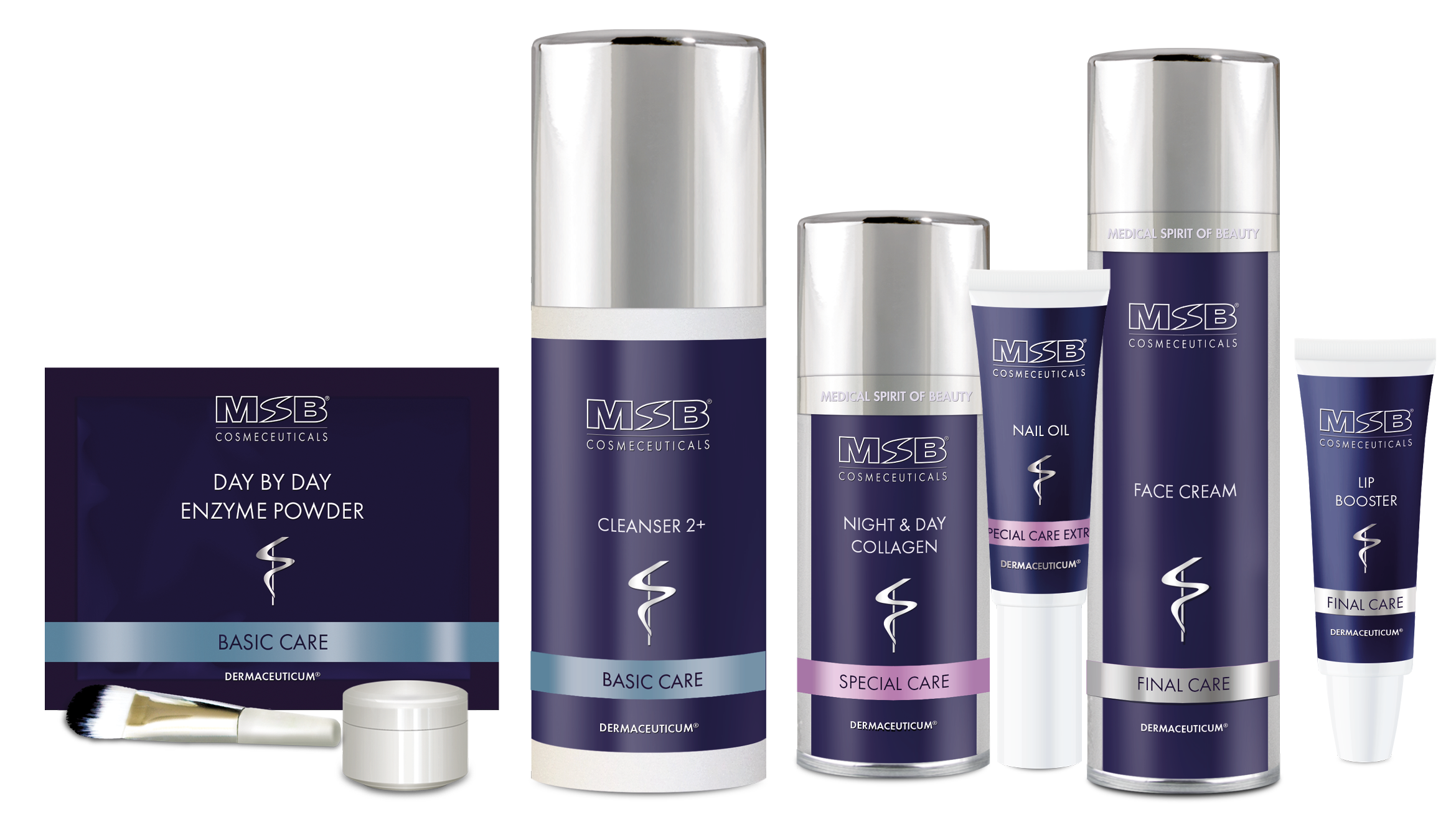 Perfekt gepflegte Haut in 3 Schritten
Die Basic Line von MSB® Cosmeceuticals hält alles bereit, was man für ein dauerhaft schönes und gesund aussehendes Hautbild braucht. Einfach angewendet, erfüllen die hochwirksamen Inhaltsstoffe effektiv und nachhaltig die individuellen Pflegebedürfnisse der Haut.
Das MSB® Pflegeritual besteht aus drei Pflegeschritten:
BASIC CARE (Reinigung)
SPECIAL CARE (Versorgung mit Wirkstoffen) und
FINAL CARE (Abschlusspflege)
SPECIAL CARE EXTRA sind Spezialpflegeprodukte mit dem Plus an Wirkstoffen sowie Zusatzprodukte.
FINAL CARE SUN ergänzt die Linie um hochwertige  Sonnenpflegeprodukte.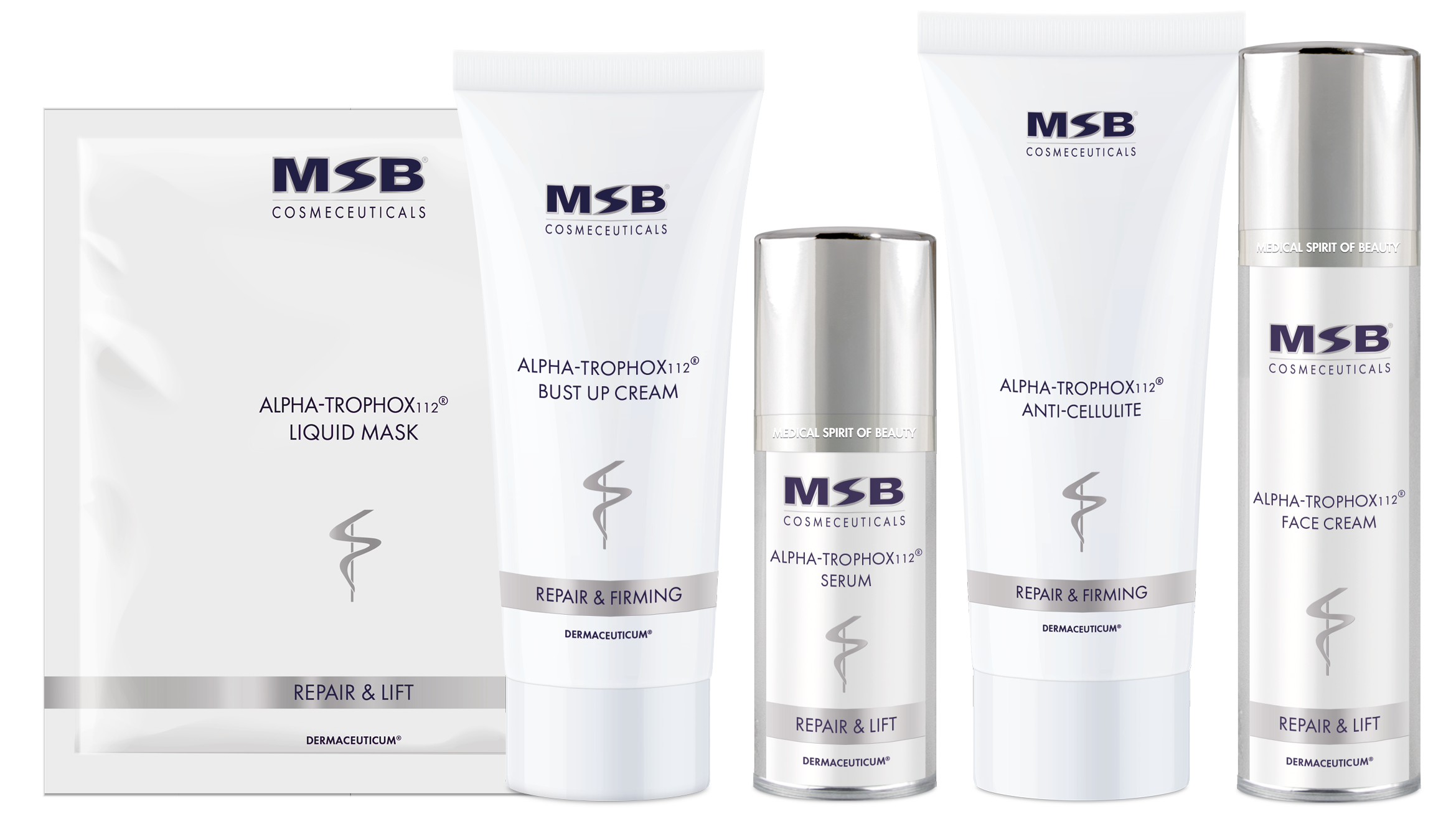 Der schnellste Weg zum Lifting ohne OP
Mit ALPHA-TROPHOX112® ergänzt MSB Cosmeceuticals sein Produktportfolio um eine einzigartige Anti-Aging Pflegelinie mit Botox-Effekt, die das Hautbild sichtbar verjüngt und nachhaltig pflegt.
Mit dem eigens entwickelten Wirkstoffkomplex ALPHA AC3 Repair-Complex setzt die Linie da an, wo eine Standardpflege nicht mehr ausreicht und wirkt erfolgreich gegen die sichtbaren Zeichen der Hautalterung.
ALPHA-TROPHOX statt BOTOX – überzeugen Sie sich selbst!
Medical Spirit of Beauty
- Discover system care


Highly effective
ingredients


Environmentally friendly packaging